It was clear day so were planning to go look to the moon through telescope. It was early so we drove to some store on the way back I suggested to go to the next to the zoo to set up the telescope far from city lights. It was kind of cold evening. We already turned from Los Feliz to the drive to the zoo when we saw sign for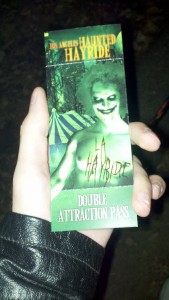 of course we full of Halloween spirit we went to the place. The hunted place was pretty crowded, it was basically 3 parts. The ride, the maze and the show. First we went to the maze which was dark and fun road. The worker there created groups with 6 to go start the trip to the dark. We enter the gates and we got our red lantern that I was holding, our group had 4 adults and 2 kids which were pretty scared of any noise around. The road leaded us to the dark passage which was connected  with rooms with scary people, and sounds of random women and children screams. We passed it pretty fast and it was fun, but not that scary.  Our next choice was the show or the hayride, it was cold and line was long and we because of that we choose the ride

yup if you think it doesn't make sense you are right. The line was 40-45m long, first person we meet in the line was this person bellow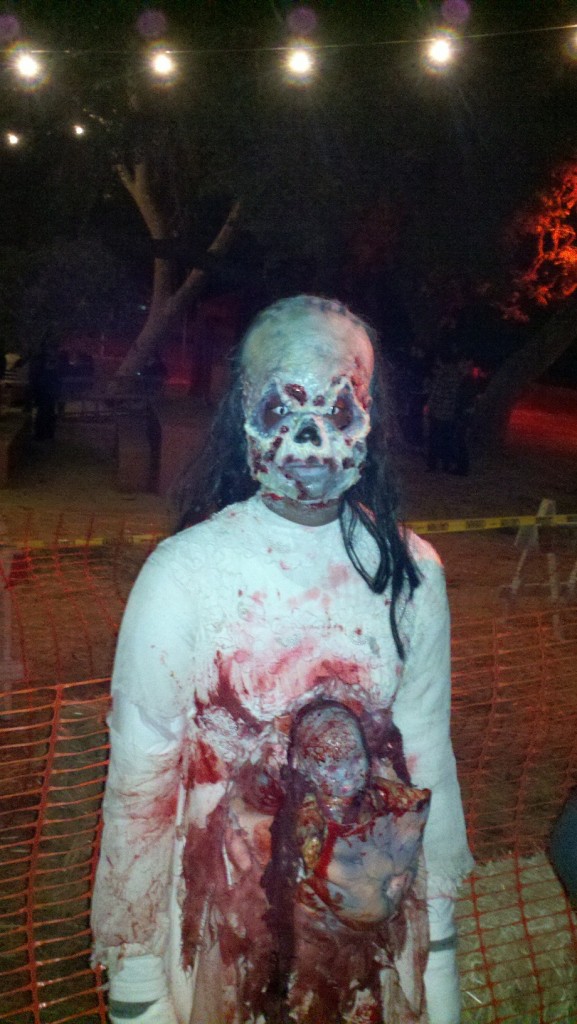 she was standing there with out moving and when someone was trying to pass by or take photo was looking to them, or moving her hands. After standing in the line other 10 minutes we meet candy people with broken faces and bones sticking out. All thing was pretty good organized so even when we were in  the line were not bored only

cold. After standing we saw some guy with baby face, which every girl was scared.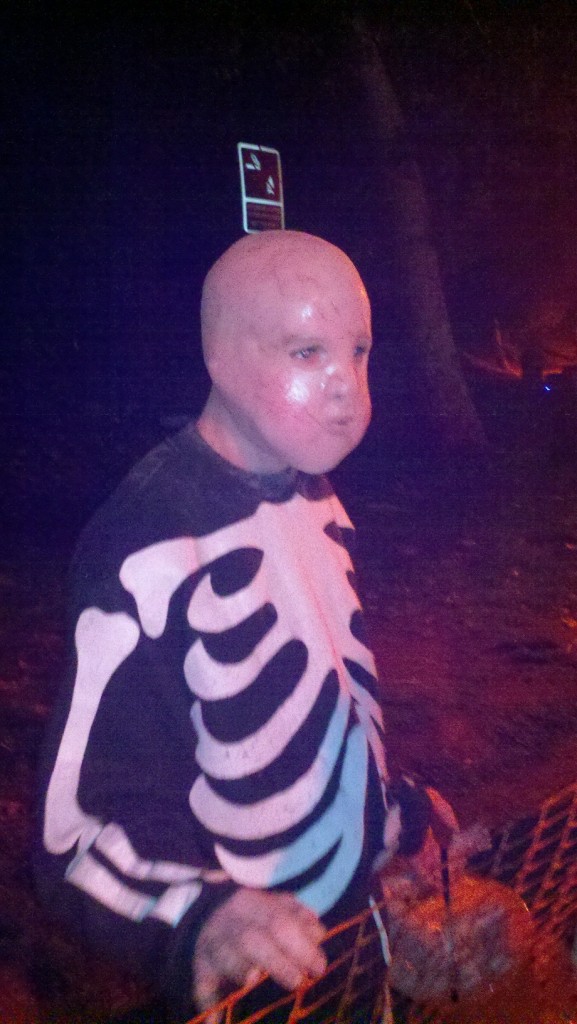 after passing this guy there was too ladies who were really trying to scare me, in the next photo you can see, it was soo scary was crying… don't go close to them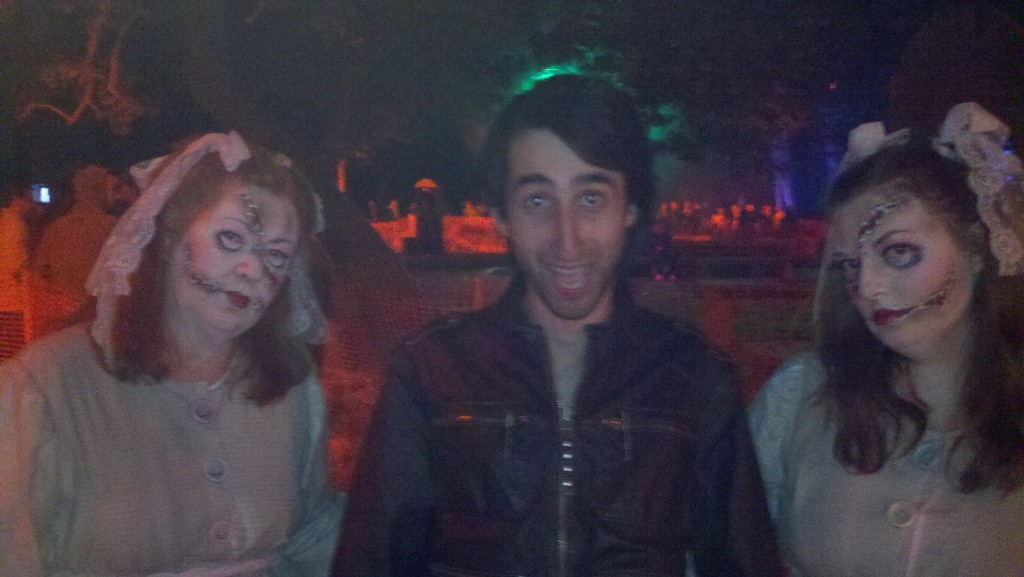 There was to girls in front of us in the line ask me to take there picture with this ladies, so I did,,, but the same time my friend took picture of mine taking there picture… and something spooky happened in the corner of the picture some mystery tree branch appeared in the middle of the field with no trees around, check it out yourself….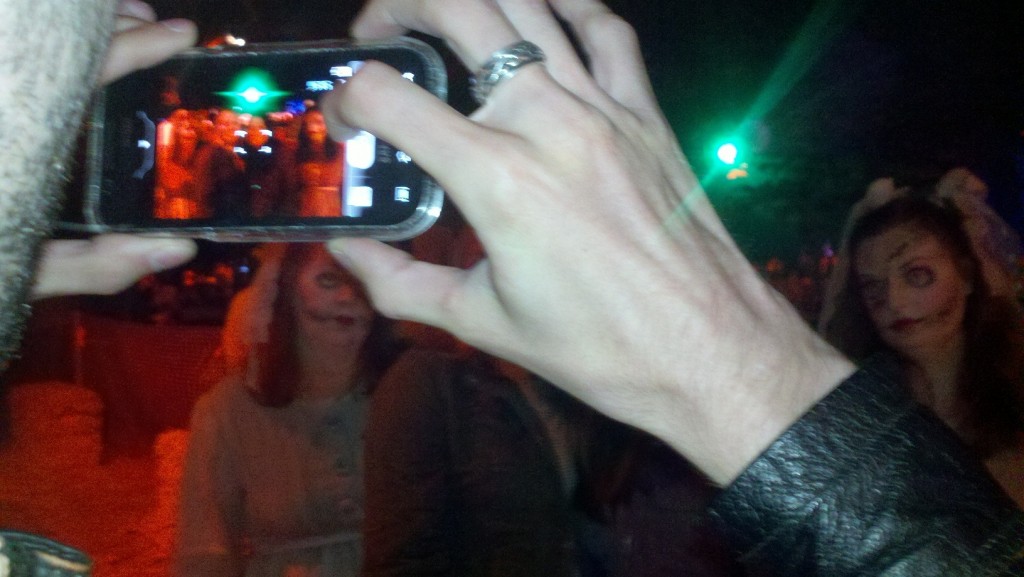 after couple minutes we were ready to board the tractor and go to the dark side of the old LA zoo with all scary people and ghosts flying around, it was around 10 minutes ride with lots of stuff to be scared of…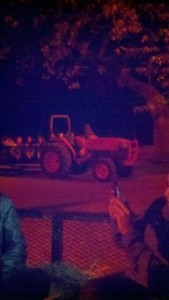 using the monster on the top we pass the dark and end up in the show area. First we saw Merry Go Around which was build from horse skulls and bones.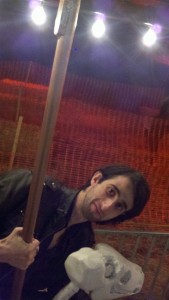 We took ride back to meet the sprites of Halloween, but they were not at home today.
We waited for show, it was ok. Nothing interesting to tell about it .
It was fun evening in Los Angeles