Last week part of Team and Training with team we went to Grand Canyon, this was base on our 15 weeks of training and support from lots of people who donated to LLS to cure cancer.  Evening before the hike, we had inspiration dinner and meet all teammates from all over the country.  Lots of people who have personal connection to cancer and some who just want to help others like me. We started our hike really early in the morning. The weather was perfect it took us 3.5 hours to hike down Indian Gardens , which was used by Indian to grow stuff couple hundred years ago. After we had short break we continue our hike to Palto Point with amazing view of Colorado river. Before hike we broke down to smaller teams, in our team we had 6 hikers and the local guide.
Instead of uploading hundreds of pictures I made small video clip, I hope everyone will like. The music of clip is by Hal Weaver, and all pictures are by me
I want to thank all supporters of LLS who donated to cure cancer.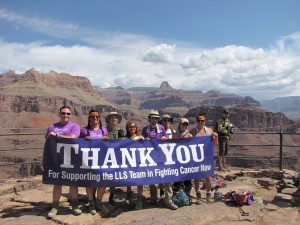 Spacial thanks to my friends and colleagues who donated
Dhanashri Patil
Caroline Collins
yan ren
Brandon Greeley
Cierra Lukers
Bora Vuth
vikram kadi
Sandeep Venkatesh
Ara Ebrahimi
Carmelle Sadora
Oleg Gnatovskiy
Frances Jeng
Virginie Louvion
Islam Ahmed
Lerrie Oblego
Maro Torres
Manoj Paudel
Dena Grablowsky
Navy Vann
Hripsime Petrosyan
Jhansi Vennam
Ying Shang
Aldi Tjahjadi
Jen Garakian
Thanks TNT team as well.
Doug MacKenzie
Alma Mcclintock
Bianca Portillo
Eric Martell
John Peery
Juan Carlos Portillo
Katrina Baumann
Maria Martell
Maureen Malone-Peery
Megan Peery
Sarah Abdelhamid
Sarah Rock
Sue Baker
Hilary Groner
Jesse Vera
Jill Thomsen
Laura Salisbury
Marissa Mongiello
Rebecca Sanchez
Scott Kaufman